Page content: Main
8th International Competition for Young Guitarists
«Andrés Segovia» in Velbert from 18th to 21st June 2014
---
The competition and all other events will take place in the :
FORUM NIEDERBERG VELBERT
Oststraße / Kolpingstraße / Bahnhofstraße
Address: Oststraße 20 42551 Velbert
Fone: +49-(0)-2051-950411
Prizewinners Concert 2014
Your ears will be amazed

Saturday, June 21st 2014 18:00 h

Those who have experienced such a prizewinners concert will never forget it. The best of all three age groups will once again demonstrate their high class and it is uplifting to witness some of the future great guitarists of this world taking the floor in Velbert.
Free access
Seat reservation tickets are only available on the concert evening at the box office.

Concerts 2014
Zoran Dukić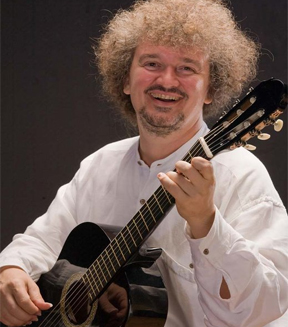 ZORAN DUKIĆ
Top class in Velbert

Thursday, 19th June 2014 20:00 h
Forum Niederberg Velbert
Zoran Dukic was presented with a guitar at the early age of six. Today he is one of the most distinguished classical guitarists of our time. In the years 1990 till 1997 he has won an astonishing number of competitions, more than any other guitarist in the world. He started his career as a teacher at the conservatories of Zagreb and Aachen, at present he lectures in Barcelona and The Hague. His concerts in all 5 continents leave long-lasting impressions on audiences and critics alike. Many renowned composers from Japan till Cuba dedicated works to him. His CD-productions comprise solo performances, chamber and orchestral music.
Entrance fee: 15 € / 5 € children and students

One price category only, seats without numbering, free choice of seats.
Advance ticket sales at all municipal service stations
and at the Velbert Tourist-Information.
Reservations by phone: +49 (0)2051 262 818

Online Tickets HERE
---
Concerts 2014
Rafael Cortés Trio

RAFAEL CORTÉS TRIO
Flamenco at its best

Friday, 20th June 2014 20:00 h
Open air at the square "Am Offers"
(1 min on foot from Forum Niederberg)

As offspring from Andalusian parents Rafael Cortés is familiar with the guitar since early childhood. In his personal Flamenco-style he merges elements from classic, latin and jazz. Up to now he shared the stage with nearly all flamenco-greats of his time. He presents his compositions in many different musical setups, in his highly cheered shows all over Europe and in his several CD-productions alike.
Open Air. Free Entrance
---
Seiteninhalt: rechte Spalte