Next competition
May 25th to 28th 2016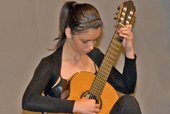 Page content: Main
8th International Competition for Young Guitarists
«Andrés Segovia» in Velbert from 18th to 21st June 2014
End of the competition 2014
June 22nd 2014
Yesterday the 8th International Competition for Young Guitarists «Andrés Segovia» 2014 ended with the impressive Prizewinners Concert.
The prizewinners are published HERE.
The complete list of results will be published on June 23rd.
We must compliment all contestants on their extraordinary commitment. Professor Martin Maria Krüger, President of Deutscher Musikrat, once put it in a nutshell:
"Not everybody can be the victor, but everybody wins through this competition!"
To the young talents of the guitar we wish success on their future way and we sincerely hope that they and all other guests will carry a good memory of Velbert.
To make the communication among the participants more easy and also for other friends of the guitar we just now opened a facebook page.
HERE is the Link.
---
Master Guitar
April 23rd 2014

The renowned Romanian Luthier CONSTANTIN DUMITRIU will come again to the Segovia Competition in Velbert. For the fifth time he will present new and valuable guitars from his workshop.
And again we are very pleased that he gives one of his masterpieces as a special prize to a finalist of his choice.

---
Record in applications
March 5th 2014
With 98 applications from 31 countries our competition establishes another record.
The incredible number of enrolments especially in Age Group 2 got the organizers into trouble. The problem was solved by prolonging the competition for this age group, so those candidates will have to go on competing on Saturday morning.
We are looking forward to greet you all in Velbert, together with your family, your teachers and your friends!
---
Enrolment closed
March 1st 2014
We are happy and proud about the echo from the guitar world.
In 4 weeks Velbert received applications from the following countries:



Belgium
Germany
Greece
Japan
Croatia
Netherlands
Austria
Poland
Portugal
Makedonia
Russia
Switzerland
Serbia
Singapore
Kosovo
Ukraine
Belarus
Italy
Moldavia
Romania
South Korea
People's Republic of China
Finland
Indonesia
Slovakia
USA
Israel
Hungary
Lithuania
Vietnam
France

---
The jury of the 8th Velbert Segovia-Wettbewerb will be staffed as follows :

Costas Cotsiolis (Greece)
Alfred Eickholt (Germany)
Dale Kavanagh (Canada/Germany)
Johannes Monno (Germany)
Jorgos Panetsos (Greece/Austria)
Gerhard Reichenbach (Germany)
Jürgen Rost (Germany)
Georg Schmitz (Germany)
Matthias Seidel (Austria)

The organizers thank those highly acknowledged artists and teachers that they are willing to bear the responsability to judge and advise those promising young guitar talents.
We will later announce even more jurors especially for the finals of age group 3.
---
Video Trailer 2010
April 2011
We tried to capture the atmosphere of the competition 2010 in a video clip of 3 minutes length. You find this clip under VIDEO to watch it or to download.
---
page content: right column
---
---
---
---